By Faith Chatham - DFWRCC - Feb. 25, 2008
Several thousand North Texans turned out with little advance notice to hear former President Bill Clinton address the public at a Get our the Vote Rally in Vandergriff Park in Arlington Sunday morning.
PHOTO BY BRENDA MARTINEZ copyright 2008
President Clinton was introduced by Tarrant County
Constable Sergio de Leon
(pictured below), who President Clinton said he'd known in Arkansas. The president said: "I've known him since he was a little boy." He told the crowds: "I'm so proud of him. I have watched him grow up!"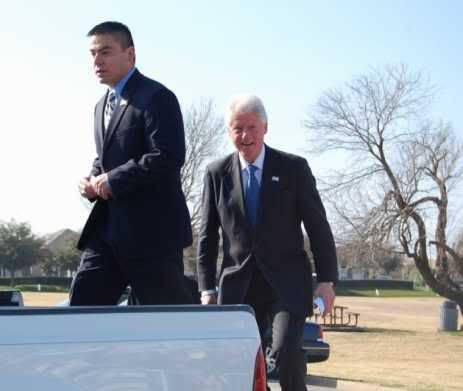 PHOTO BY BRENDA MARTINEZ copyright 2008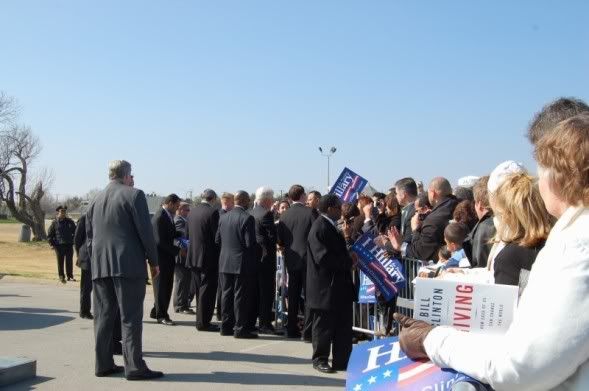 PHOTO BY BRENDA MARTINEZ copyright 2008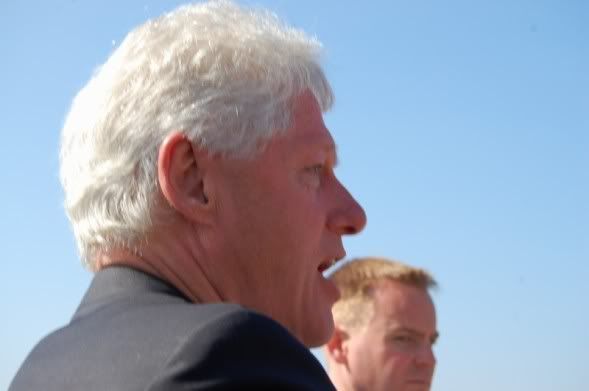 PHOTO BY BRENDA MARTINEZ copyright 2008
PHOTO BY BRENDA MARTINEZ copyright 2008Faith Chatham, co-founder of DFW Regional Concerned Citizens, discusses NAFTA and toll roads with President Clinton. He said NAFTA hasn't turned out like we intended. We need to revise it. He was surprised when she told him that there are plans to build 675 miles of toll roads in the DFW Metroplex alone. He wanted to know "Why? and "Who's puahing it?"
About this year's Presidential race, Bill Clinton asked:
"Which is more important to you: Should we make a new beginning with somebody not involved in either the problems of this decade or the progress of last ... or should we make a new beginning with a change-maker who knows when to compromise and when to stand stong firm?"
Prior to the rally in Arlington Sunday, President Clinton worshipped at the Potter's House in Oak Cliff with Bishop T.D. Jakes.
President Bill Clinton will return to the DFW metroplex for a Tuesday morning event at Mountain View College in Dallas and a Tuesday evening event (5:00 p.m.) in the Marine Park on Fort Worth's north side near the stockyards.
Chelsea Clinton spoke at three area University campuses earlier this month. Senator Hillary Clinton appeared at a rally in Oak Cliff Friday and cancelled her Fort Worth Rally that same day in respect for the police officer who was killed in an accident while escorting her motorcade Friday.
U-TUBE VIDEO by JELATOV
President Bill Clinton in Arlington - Part 2
U-TUBE VIDEO by JELATOV
Hillary Clinton's campaign has visited Arlington twice this month. Chelsea spoke at UTA during her three university speaking tour earlier this month for her mother's campaign. Husband Bill returned to Arlington to speak for his wife. Usually ignored by national Democratic political campaign as being "too expensive and too Republican" to merit expenditure of campaign resources, Arlington has defied the "RED" label this year. At all five early voting sites Arlington Democratic voters outnumbered Republican early voters during each of the first five days of early voting. Larger percentages of Democrats are voting early and larger percentages of Republicans are staying home.
See
WFAA Coverage
See story by Anna Tinsley of the
Fort Worth Star Telegram
See DMN
Story